Have you ever wondered what it would feel like to have a personal sanctuary amidst a chaotic environment? With Beats Studio 3 and Bose 700 noise cancelling headphones, that dream can become a reality. These cutting-edge devices offer not just an escape from external disturbances but also deliver high-quality audio experiences like never before.
In this showdown between "Beats Studio 3 vs Bose 700" headsets, we'll delve deep into their features, comfort levels, audio performance, and overall user experience to help you make an informed decision on which headset is truly worth your investment.
Image
Product
Price

Beats Studio3 Wireless Noise CancellingAmazon Choice

22 Hours of Listening Time Battery

Check Price

Bose Headphones 700, Noise CancellingWinner

Clear Calls and Alexa Voice Control

Check Price
Beats Studio 3 vs Bose 700: Which Headphones Are Better Option?
Noise-canceling headphones have become increasingly popular in recent years, allowing users to immerse themselves in their audio without distractions from the outside world. Two of the top contenders in this market are the Beats 3 and Bose headphones. So which is the best option for you see the "Beats Studio 3 vs Bose 700" comparison.
1. Sound Quality
When it comes to audio performance, both the Beats 3 and Bose headsets deliver excellent sound quality with deep, powerful bass and crisp treble. However, the Bose 700s have a slight edge when it comes to overall sound reproduction.
Compared to Beat Studio Pro vs Bose 700 headphones, the Bose headphones provide a much more balanced sound signature. The soundstage is open and spacious, allowing you to pinpoint the positioning of instruments and vocals. The treble is sparkling yet smooth, and the bass is deep and punchy without muddying up the mids.
While the Beats 3 also provides impactful bass and bright treble, some find the sound profile to be overly sculpted to emphasize lows and highs. The mids can sometimes sound recessed in comparison.
The soundstage doesn't feel quite as open as the Bose headphones. However, the Beats 3 still performs admirably for a bass-heavy headphone tuned for popular genres like hip-hop, EDM, and pop.
Winner: In terms of audio quality alone, the Bose 700 headphones edge out the Beats Studio 3 with their more balanced, natural sound. But audio preferences will play a role here as well.
2. Noise Cancellation
Active noise cancellation is a key selling point of both these wireless headphone models. This feature uses built-in microphones to analyze incoming external noise and generate inverse sound waves to cancel it out.
The Bose headphones offer 11 levels of noise cancellation to choose from, ranging from full isolation to complete transparency. This allows you to customize the experience based on your environment and needs. The maximum ANC setting is extremely effective at blocking out background sounds like rumbling engines, talkative coworkers, and other distractions.
Beats 3 headphones provide a single noise cancellation setting called Pure ANC. While not as adjustable as the Bose headsets model, Pure ANC still does an excellent job muting external noise in the mid to high-frequency ranges. However, some users notice more leakage in the lower frequencies compared to Bose.
Winner: For the most effective and customizable noise cancellation experience, the Bose headsets are the winner in this category. But the Beats 3 Studio isn't too far behind with its solid ANC performance.
3. Design and Comfort
In terms of aesthetics and comfort, both models are attractively designed using premium materials like stainless steel, aluminum, and plush cushions.
The Beats 3 features an iconic, ear-hugging design comprising matte black or glossy white plastic with soft ear pads. A variety of vivid color options are also available. The foldable design allows the Studio 3 to collapse into a compact footprint for travel. Comfort-wise, the ample padding and clamping force provide a secure yet comfortable fit for most head shapes.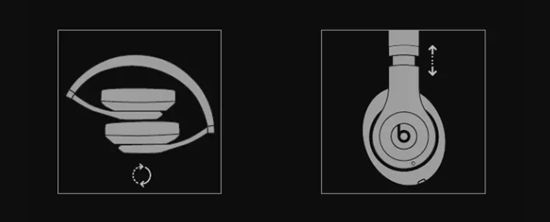 Bose Quietcomfort 45 vs Beats Studio 3, Bose features a sleek, minimalist design with a slender stainless steel headband and matte plastic ear cup covers. The fit is ergonomic but less snug than the Beats 3 headsets. The 700 also folds up but is slightly bigger than the Studio 3 when collapses.
Winner: For all-day wear, the Bose 700 may have a slight advantage in terms of breathability and weight, but both models are comfortably designed for extended listening. The choice between the two comes down to personal styling preferences.
4. Controls and Connectivity
Beats Studio Pro vs Bose 700 allows you to control music, calls, volume, and other functions via on-earcup controls. The Beats use a series of buttons positioned on the left earcup, while the Bose 700 uses a touch interface on the right earcup. Both work quite seamlessly once you get accustomed to them.
Connectivity-wise, the Beats 3 headset relies on Apple's W1 chip for streamlined pairing with iOS devices. For non-iOS pairing, a simple Bluetooth menu connection will suffice. The Bose headsets 700 has Bluetooth and NFC pairing capabilities for both iOS and Android.
One advantage of the Bose is built-in support for Amazon Alexa and Google Assistant for voice commands. The Beats 3 headsets currently don't offer onboard virtual assistant support, though you can summon Siri via iOS.
Winner: For wireless connectivity and smart features, the Bose 700 pulls ahead with their more universal compatibility and built-in voice assistant access.
5. Battery Life
Battery performance is similar between the two models, though the Beats headset ekes out a slightly longer runtime per charge:
Beats Studio 3: Up to 22 hours of playback with ANC on
Bose 700: Up to 20 hours of playback with ANC on
Both headphones can fast charge via USB-C to provide around 3 hours of playback from a 10-minute charge. Bose also quotes up to 40 hours of battery life if you use the 700 headphones wired.
Winner: For battery life, the Beats Studio 3 and Bose 700 are evenly matched, delivering all-day power on a single charge. But Beats Studio 3 has a slight edge.
6. Price
The Beats headphones typically retail for $349.95, though discounts can often bring the price down to around $250.
For example, the Studio 3 are currently available on Amazon for $248.99.
The Bose earplugs normally have an MSRP of $299, but deals can reduce the cost to roughly $240.
Right now, the Bose 700 is selling on Amazon for $239.92.
So at current discounted prices, the Bose 700 headphones are about $9 cheaper than the Beats headset.
Considering the Bose 700 surpasses the Studio 3 in areas like sound quality, noise cancellation, and features, the lower $239.92 price makes the Bose 700 an even more compelling option compared to the $248.99 Beats Studio 3.
Winner: However, Studio 3 remains a solid choice for those who prefer the Beats sound profile and Apple-friendly connectivity.
Additional Features
Beyond core performance, "Beats Studio 3 vs Bose 700" offers some extra capabilities worth considering.
1. Hands-free access
The Beats earbuds feature Apple's proprietary W1 chip, which enables seamless pairing with Apple devices. You also get hands-free access to Siri on iOS. Android users unfortunately don't get full integration but can still connect via standard Bluetooth.
2. NFC Pairing
The Bose headphones 700 work equally well with both iOS and Android. NFC pairing allows you to instantly connect by tapping your NFC-enabled smartphone to the headphones. You also get direct access to Google Assistant or Amazon Alexa for voice commands.
3. Bose SimpleSync Technology
For audio sharing, the Bose 700 has proprietary Bose SimpleSync technology. This lets you connect the headphones to select Bose smart speakers for a personal listening experience while streaming from the speaker. Beats earbud doesn't offer similar audio-sharing capabilities.
4. Customization
Customization is another area where Bose pulls ahead. The Bose Music app for iOS and Android provides options for tweaking sound profiles, managing device connections, updating firmware, and more. Beats offer more limited controls through the Beats app on Android (no iOS app is available).
Both models provide audio cable options for wired listening. The Bose includes a 2.5mm to 3.5mm audio cable, while the Beats headphones come with a remote-equipped 3.5mm audio cable.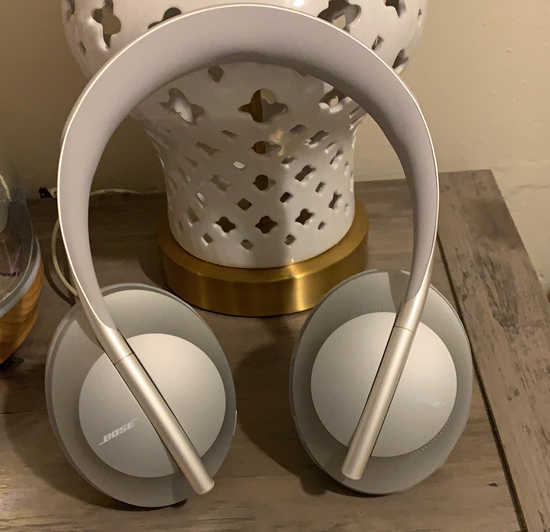 Winner: Overall, the Bose provides broader compatibility, audio sharing, and customization compared to the more Apple-centric Beats Studio 3. Unless you are deeply embedded in the Apple ecosystem, the Bose 700 has the advantage in terms of features and functionality.
The Verdict
Overall, the Bose slightly outperforms the Beats headphones across criteria like sound quality, noise cancellation, and smart features. However, the Studio 3 remains an appealing option for its bass-forward sound, stylish aesthetics, and lower cost.
If your priorities are lifelike balanced audio, adjustable ANC, and voice assistant access, the Bose is the better buy. But the iconic style and energetic sound of the Beats Studio 3 shouldn't be overlooked either.
Both are excellent wireless noise-cancelling headphones that deliver immersive audio experiences. The choice ultimately depends on your personal needs and which qualities hold more weight in your decision. Try listening to each model yourself to discover your preferred sound and comfort.
What's inside the Box?
Beats Studio 3 Box Contents:
Headphones
Carrying Case
3.5mm RemoteTalk Cable
USB Charging Cable
Quick Start Guide
Warranty Card
Bose 700 Box Contents:
Headphones
USB Charging Cable
2.5mm to 3.5mm Audio Cable
Carrying Case
The Bose 700 includes an audio cable for wired listening, while the Beats Studio 3 includes a remote-equipped audio cable for calling and music controls. Both come with a protective case and a USB charging cable.
Conclusion
In the battle between "Beats Studio 3 vs Bose 700" noise-canceling headphones, the Bose 700 emerges slightly ahead in aspects like sound quality, noise cancellation, and enhanced smart features. While the Beats Studio 3 offers a pronounced bass, distinctive design, and a more affordable price tag.
If you prioritize realistic audio, adjustable noise cancellation, and integrated voice assistants, the Bose earphones are the preferable choice. Yet, the iconic design and dynamic audio of the Beats Studio 3 remain commendable.
Both headphones offer outstanding audio experiences, and the ultimate decision rests on individual preferences and priorities. Testing both models personally is advised for an informed choice.
Relevant Comparison Guides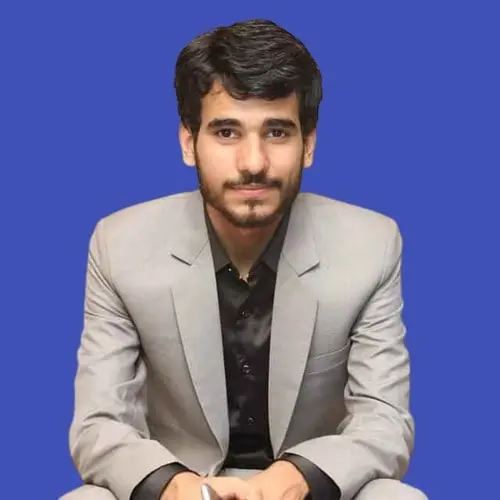 Anneq Aish Choudhary is a passionate writer with a keen interest in headphones and music. With years of experience in writing about technology, Anneq has a deep understanding of the latest trends and innovations in the headphone industry. Anneq's articles provide valuable insights into the best headphones on the market.