Are you tired of being constantly bombarded by background noise while trying to enjoy your favorite music or podcast? In the midst of our chaotic and rapidly changing world, seeking out a peaceful respite can prove to be quite a daunting task. Whether you're working in a bustling office, traveling on a noisy plane, or simply trying to relax at home, the constant background noise can be distracting and irritating.
Noise-canceling headphones are the solution to this problem. These technological marvels use advanced audio processing to silence unwanted sounds, allowing you to immerse yourself in your music, podcasts, or audiobooks.
In this complete guide, the HeadPhones Baba team will explore the top 8 headphones that cancel background noise, ensuring you have a tranquil listening experience.
Top 3 Background Noise Canceling Headphones DEALs
What Are Noise Canceling Headphones?
Noise canceling headphones use tiny microphones built into the earcups to pick up ambient noise around you. Advanced audio circuitry generates an equal but opposite cancelling signal to effectively mute that background noise before it reaches your ears. This active noise cancellation allows you to immerse yourself in your audio content, undisturbed by chatter, engine roar, and other external sounds.
Noise canceling technology has improved tremendously in recent years. The latest iterations can cancel up to 90% of mid and high frequency noise, and use adaptive algorithms to automatically adjust cancellation strength based on your environment. Premium models now allow you to fine-tune the level of noise cancellation and even amplify ambient noise when needed.
Benefits of Noise Canceling Headphones
Here are some of the key benefits of noise canceling headphones:
Focus: By blocking out distracting sounds, noise canceling headphones improve concentration when you need to focus. This makes them ideal for work, study, or any task that requires your full attention.
Hear Detail: Subtle audio details can get drowned out by background noise. Noise cancellation unveils these rich details for a superior listening experience. Vocals are clearer, and basslines are more defined.
Lower Volume: You can listen at lower volumes since you don't need to drown out external noise. This reduces ear fatigue and hearing damage risks from high volume levels.
Enhanced Call Quality: Noise cancellation improves call quality by removing background noise from both ends of the call. Your voice will come through clearer to callers.
Travel: One of the most popular uses for noise canceling headphones is enhancing the travel experience. Blocking out engine noise, chatter, and other distractions makes travel more peaceful and enjoyable.
Now let's get into the top noise canceling headphones you can buy today based on performance, comfort, value, and other factors. Here are my reviews of the top 8 noise canceling headphones of 2023.
1. Sony WH-1000XM5 [Best Overall]
Limited Time Sale
The Sony WH-1000XM5 is the new benchmark for wireless noise canceling headphones. Sony has drawn on decades of noise cancellation research to produce an astonishingly effective system that silences the world around you.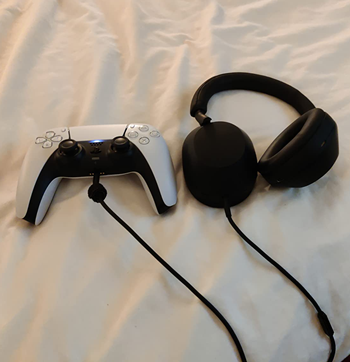 Eight integrated microphones feed external noise data to the powerful Sony Integrated Processor V1. This custom chip then generates an opposing cancellation signal with incredible speed and precision. You can literally feel the deafening silence as ambient noise is muted. Adaptive algorithms constantly scan your surroundings and automatically
optimize settings so you get the ideal
noise cancellation at all times.
Beyond stellar noise cancellation, the WH-1000XM5 sounds fantastic. The 30mm drivers deliver exceptional clarity across the frequency range, aided by LDAC and Sony's DSEE Extreme audio upscaling tech. Touch controls let you easily manage music, take calls, and activate ambient sound mode to tune into your environment when needed.
Despite the advanced internal hardware, the WH-1000XM5 remains lightweight at just 250g. The swivel fold design and soft fit leather headband provide day-long comfort too. For frequent travelers and commuters, the WH-1000XM5 is hands-down the best pair of noise-canceling headphones available.
Key Features:
Class-leading noise canceling with 8 microphones
Outstanding call quality
30-hour battery life
Fast charging (3 hrs use from 3 mins charge)
Lightweight comfort (250g)
2. Bose QuietComfort 45 – Most Comfortable
For marathon listening sessions, the Bose QuietComfort 45 has set the new comfort benchmark. Luxuriously plush synthetic protein leather covers both the memory foam earcups and headband. The earcups fully enclose your ears without pinching. At just 238g they feel featherlight even after hours of wear.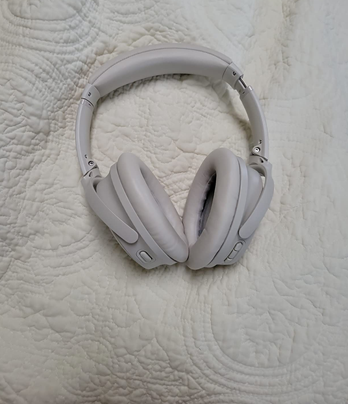 Bose AR enhanced noise cancellation leverages tiny mics inside and outside the earcups to erase unwanted noise across a broad range of frequencies. The QC45 boasts an ambient-aware mode that lets in sound from your environment when needed. Active EQ tuning maintains balanced sound reproduction so your music always sounds clear and natural.
On top of pampering your ears with comfort and great noise cancellation, the Bose QuietComfort 45 really shines for voice calls. A beamform array isolates your voice while machine learning blocks out wind noise for amazing call clarity even outdoors. For all-day comfort and communications, the QC45 hits the sweet spot.
Key Features:
Super soft earcups and headband
Active EQ for balanced sound
24 hour battery life
Dedicated noise canceling modes
Top notch mic system for calls
3. Anker Soundcore Life Q30 – Best Budget Noise Cancelling
Limited Time Sale
Soundcore by Anker Life Q30 Hybrid Active Noise…
Advanced Noise Cancellation Technology: Maintain…
Ultimate Noise Cancellation Experience: Customize…
Hi-Res Music: Hear every detail of your favorite…
40-Hour Playtime: Life Q30 active noise cancelling…
The Anker Soundcore Life Q30 proves you don't need to spend big bucks for effective noise canceling. These affordable wireless over-ear headphones provide surprisingly good active noise cancellation that rivals more expensive models. Dual noise detecting microphones feed external sound data to the custom noise cancelling chip to mute ambient noise.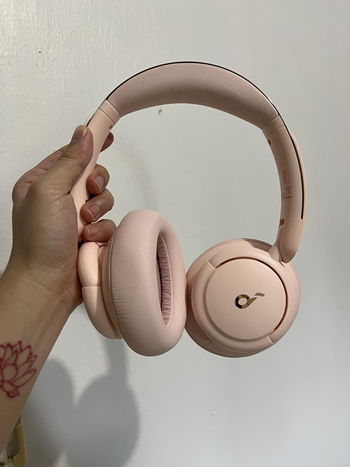 You can choose from three noise cancelling modes depending on your environment: Transport, Outdoor, and Indoor. Life Q30 also features a transparency mode that pipes in sounds around you when needed. 40+ hour battery life outlasts most competitors. The soft memory foam earcups and lightweight headband minimize ear fatigue during marathon listening sessions.
Considering the bargain price, the Life Q30 competes well with top noise cancelling headphones for blocking out background noise. The Soundcore app provides useful customization options too. Overall, the Life Q30 is the best budget noise cancelling headphone you can buy.
Key Features:
Impressive noise cancellation for the price
Customizable noise cancelling modes
40 hour battery life
Comfortable memory foam earcups
USB-C and wireless charging
4. Beats Studio Buds – Best Noise Cancelling Earbuds
Beats Studio Buds – True Wireless Noise…
Custom acoustic platform delivers powerful,…
Control your sound with two distinct listening…
Three soft ear tip sizes for a stable and…
Up to 8 hours of listening time (up to 24 hours…
For noise cancelling earbuds, the Beats Studio Buds pack impressive performance in a minuscule package. Tiny microphones integrated into each earbud listen to ambient noise. Internal processors generate inverse sound waves to actively mute external noise.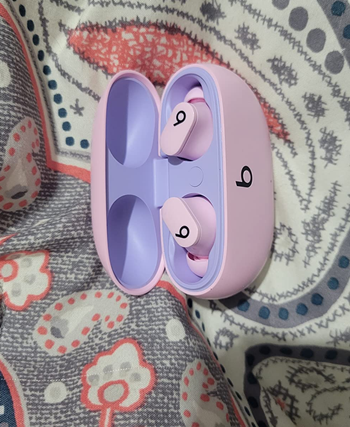 While the noise cancellation isn't as strong as over-ear models, it is effective for earbuds. The Studio Buds also seal the ear canal nicely to provide good passive isolation. You get surprisingly decent noise reduction from such a compact design.
The Beats Studio Buds work equally well with iOS or Android devices. One-touch pairing provides quick connectivity. The pocket-friendly charging case delivers up to 24 hours of runtime. IPX4 water resistance lets you work out worry-free. Overall, the Beats Studio Buds are your best option for true wireless noise cancelling earbuds.
Key Features:
Active noise cancellation in a tiny earbud design
iOS/Android compatibility
IPX4 sweat/water resistance
Fast pairing with Apple/Android
Pocketable case for charging
5. Shure AONIC 50 – Best Noise Cancelling Headphones for Android
Shure AONIC 50 Wireless Noise Cancelling…
PREMIUM WIRELESS STUDIO-QUALITY SOUND: Engineered…
ADJUSTABLE NOISE CANCELLING & ENVIRONMENT MODE:…
BLUETOOTH 5 WIRELESS TECHNOLOGY: Enhanced…
UP TO 20 HOURS BATTERY LIFE: Uninterrupted audio…
While most noise cancelling headphones focus on Apple compatibility, the Shure AONIC 50 are tailored for Android and Windows users. Multipoint Bluetooth allows simultaneous connections to your Android phone and Windows PC. Effortlessly switch audio sources as needed.
The adjustable active noise cancellation is extremely effective at blocking ambient noise across the frequency spectrum. Punchy bass brings music to life while clear mids and detailed treble prevent muddiness. Robust build quality ensures the AONIC 50 will survive regular use.
With the ability to connect to multiple devices at once, excellent noise reduction, and rugged design, the Shure AONIC 50 is one of the 15 best noise cancelling headphones for Android and Windows users.
Key Features:
Bluetooth multipoint for Android and Windows
Excellent noise cancellation
Ambient aware mode
30+ hour battery life
Rugged design
6. Jabra Elite 85h – Best Noise Cancelling Headphones for Calls
Jabra Evolve2 85 UC Wireless Headphones with…
OUTSTANDING NOISE CANCELLATION – Jabra Evolve2…
BIGGER & BETTER SOUND – This business headset…
INDUSTRY-LEADING BATTERY LIFE – The Evolve2 85…
HIDDEN BOOM ARM – The foldable boom arm paired…
With eight integrated microphones, the Jabra Elite 85h are engineered for exceptional call quality in noisy environments. Four of the mics enable effective noise cancellation, while the other four optimize your voice pickup during calls. Even in loud places, calls come through crystal clear.
Smart sensors automatically pause audio when you remove the headphones and resume playback when placed back on your ears. With HearThrough mode activated, built-in mics mix ambient sound with your music for situational awareness. On-ear detection and transparency mode make the Elite 85h ideal for handling calls while commuting or in the office.
Key Features:
Eight microphones optimize call quality
HearThrough transparency allows ambient sound
36 hour battery life
Audio automatically pauses when headphones are off
Alexa, Siri and Google Assistant support
7. Bowers & Wilkins PX7 – Best SPL Control Headphones for Noise Cancelling
Limited Time Sale
Bowers & Wilkins PI5 in Ear True Wireless…
REFINED AUDIO PERFORMANCE – Featuring Bluetooth…
Product Note : If the size of the earbud tips does…
ADVANCED NOISE CANCELLATION – The PI5 features a…
SMART WIRELESS CHARGING – Comes with a sturdy…
The Bowers & Wilkins PX7 features highly advanced and customizable noise cancelling. Adjustable noise cancellation strength lets you fine tune ambient noise reduction. Ambient pass-through control mixes external and audio playback sound just how you like it.
You can also tailor sound reproduction through the Bowers & Wilkins app. The carbon fiber composite arms and soft lambskin earcups ooze sophistication. Support for Qualcomm aptX Adaptive Bluetooth ensures incredible sound quality when streaming music.
With granular control over sound cancellation, amplification, and audio reproduction, the Bowers & Wilkins PX7 let you personalize your listening
expertise and is great for tuning out background noise in style.
Overall, the wireless earbuds under $30 are a must-have for any audiophile looking for superior sound quality and convenience combined into one stylish
Key Features:
Ambient pass-through control
Active noise cancellation adjustment
12+ hour battery life
Premium design and build quality
AptX adaptive Bluetooth 5.0
8. Apple AirPods (3rd Generation) Wireless Earbuds with Lightning Charging Case
Limited Time Sale
Apple fans looking for noise-canceling headphones will be naturally drawn to the AirPods Max. Out of the box, they instantly pair and switch between your iPhone, iPad, MacBook, and other Apple devices. The clean aesthetic design looks right at home alongside your other Apple gear.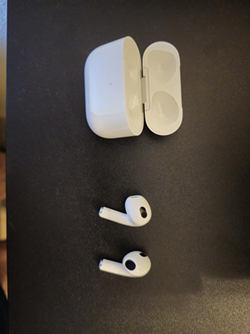 The AirPods Max uses two beamforming mics in each ear cup to block external noise. While noise cancellation isn't quite on par with Sony and Bose, it is effective at reducing ambient noise so you can enjoy distraction-free listening. Spatial audio support with dynamic head tracking provides an immersive listening experience.
Audio quality is excellent, with rich bass, natural midrange, and crisp highs. The battery delivers up to 6 hours of use. While expensive for headphones, the AirPods Max delivers a seamless user experience for Apple lovers wanting to eliminate background noise.
Key Features:
Seamless pairing/switching with Apple devices
Effective noise cancellation
Spatial audio support
6 hour battery life
Premium design and build
How Do Noise Canceling Headphones Work?
Noise cancellation employs microphone, audio processing, and speaker technology to achieve ambient noise reduction. Here is an overview of how noise cancelling headphones work:
Microphones: Tiny microphones located inside and outside the earcups detect ambient noise across frequencies. Common noise sources include engines, chatter, wind, HVAC systems, etc.
Noise Analysis: The microphone feeds the ambient noise data to internal processing circuitry. This analyzes the noise waveform characteristics.
Inverse Waves: The processor generates a sound wave that is the exact opposite of the ambient noise waveform. This is called antiphase sound.
Cancellation: A speaker inside the earcup reproduces the antiphase sound. When this combines with the original noise, the sound waves cancel each other out through destructive interference before reaching your ear.
Adaptation: Advanced noise cancelling headphones continuously sample environmental noise and adapt the cancellation signal in real-time to block varying noise sources. This provides seamless noise reduction as you move through different environments.
Choosing the Best Noise Cancelling Headphones
With so many noise cancelling headphones models available, choosing the right pair for your needs takes careful evaluation. Follow these tips for picking out great noise cancelling headphones:
Noise Cancellation Strength: Assess how deeply the headphones can eliminate midrange and high frequencies like voices and engine noise which are most distracting.
Comfort: Over-ear cushions that fully enclose your ears are most effective. Ensure headband and earpads use soft padding that allows hours of pain-free wear.
Battery Life: For travel, look for at least 30 hours of wireless runtime between charges. Quick charge support is a bonus.
Controls: Intuitive physical or touch controls for music, calls, volume and noise cancellation are convenient to have.
Sound Quality: Noise cancellation shouldn't overly color audio reproduction. Sound should remain clear and balanced across the frequency range.
Value: Premium noise cancellation commands higher prices, but excellent options exist under $300 for budget buyers.
Noise Cancelling Headphone Deals
Here are some of the best noise cancelling headphone deals currently available:
Check back often as new noise cancelling headphone deals are introduced frequently. Buying during seasonal sales events like Prime Day, Black Friday, and Cyber Monday can net you steep discounts too.
Conclusion
From busy offices to planes, trains, and city streets, our modern world is filled with distracting noise pollution. Thankfully, today's noise cancelling headphones give you a simple way to find silence wherever you go. Combining the latest noise cancelling technology with sleek designs and great sound quality, these headphones help you focus, protect your hearing, and enhance the way you experience media.
Hopefully, these reviews and buying considerations help you select the ideal noise cancelling headphones to mute the world around you. Shut out the noise and immerse yourself in music and entertainment with my top picks like the Sony WH-1000XM5 or budget-friendly Anker Soundcore Life Q30. The right noise cancelling headphones let you hear more by blocking out less.
Frequently Asked Questions
What is the best noise cancelling technology?
Sony and Bose currently lead for noise cancelling performance. Features like adaptive noise cancellation, multiple built-in microphones and proprietary processing chips allow their headphones to mute real world noise better than competitors.
Should I choose noise cancelling earbuds or headphones?
Over-ear noise cancelling headphones block out more exterior noise but earbuds are more portable. For travel and commuting, compact earbuds like the Beats Studio Buds are convenient. Over-ear models like the Sony WH-1000XM5 offer superior noise reduction for environments like airplanes and offices.
Are noise cancelling headphones safe for your ears?
Noise cancelling headphones are safe when kept at moderate volumes because they reduce the need to crank up the audio to drown out noise. This minimizes noise exposure and hearing damage risks. Avoid excessive high volume levels with any headphones.
How do I choose the right fit?
Noise cancelling is most effective when the earcups fully enclose your ears to block sound combined with a comfortable, secure fit. Try different sizes of earcups and headbands to get the best fit for your head and ears. Over-ear cushions with memory foam enhance comfort.
Can noise cancelling headphones be used without power?
Some models like the Bose QuietComfort 45 include an auxiliary cable for wired use without battery power. However, the noise cancellation effect will not work unpowered. For full noise cancelling, remember to charge your headphones before use.
Relevant Reviews And Buying Guides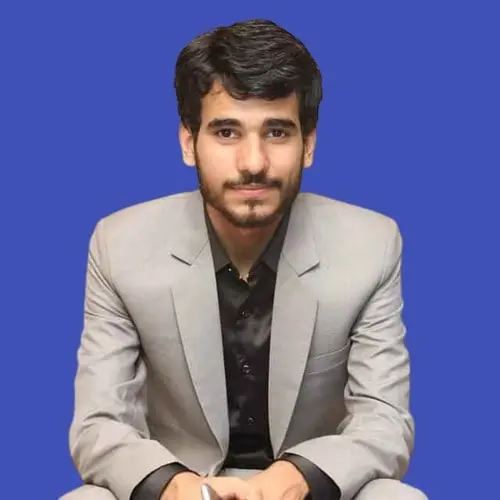 Anneq Aish Choudhary is a passionate writer with a keen interest in headphones and music. With years of experience in writing about technology, Anneq has a deep understanding of the latest trends and innovations in the headphone industry. Anneq's articles provide valuable insights into the best headphones on the market.