Yard work can be an enjoyable way to get some exercise and make your outdoor space look great. But the noises from lawnmowers, leaf blowers, and other equipment can make it an unpleasant chore. That's where a good pair of wireless headphones comes in handy. With the right headphones, you can listen to your favorite music or podcasts while tuning out the loud background noise.
When choosing wireless headphones for yard work, you'll want to consider certain features. Noise cancellation is a must to block out lawn mower engines and other distracting sounds. Water and sweat resistance will allow you to wear them without damage as you work up a sweat.
Comfort and a secure fit are also important for long hours of wear. Battery life should be long enough to last through mowing the lawn or other tasks.
Here are the 15 best wireless headphones for yard work in 2023 based on features, performance, comfort, and value:
Top 3 HeadPhones For Yard Work [DEALs]
Over-Ear Models That Block Out The Roar
If you want maximum noise cancellation around your whole ear, then an over-ear model is the way to go. These headphones form a tight seal and use padding to block even very loud equipment like chainsaws or leaf blowers. Here are some stellar over-ear choices:
1. 3M WorkTunes Connect [Hearing Protector with Bluetooth Technology]
The 3M WorkTunes Connect is specifically designed for yard work and construction jobs requiring hearing protection. These large over-ear cups protect your ears with a noise reduction rating (NRR) of 24 decibels while also allowing you to wirelessly stream music, podcasts, or calls from your mobile device. The combination of protection and entertainment makes noisy tasks much more enjoyable.
With soft padding on the headband and ear cups, the 3M WorkTunes provide all-day comfort. The controls on the ear cups allow you to adjust volume, play or pause audio, and take calls with the integrated mic. At under $60, they deliver great value for safety and convenience.
Key Features:
Bluetooth technology allows for wireless connection to your devices – The built-in microphone enables hands-free calling and voice command activation
A noise reduction rating of 24 decibels helps protect against harmful noise levels
High-fidelity speakers provide clear, immersive sound quality
Adjustable headband and cushioned ear cups ensure a comfortable fit for extended wear
Intuitive controls make it easy to adjust volume, skip tracks, and answer calls without removing the hearing protector.
2. Anker Soundcore Life Q30 Hybrid Noise Cancelling Headphones
Limited Time Sale
Soundcore by Anker Life Q30 Hybrid Active Noise…
Advanced Noise Cancellation Technology: Maintain…
Ultimate Noise Cancellation Experience: Customize…
Hi-Res Music: Hear every detail of your favorite…
40-Hour Playtime: Life Q30 active noise cancelling…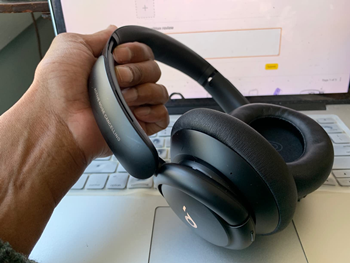 The Anker Soundcore Life Q30 headphones are an affordable option with strong noise cancellation. Using multiple microphones, these over-ear headphones can block out ambient noises up to 90% based on real-world testing. This allows you to immerse yourself in your audio without distraction.
They offer an impressive 40-hour battery life on a single charge. The soft memory foam ear cups seal out noise while providing comfort for long yard work sessions. These flexible headphones fold down compactly for storage in a pocket or bag. USB-C quick charging gives you 4 hours of playtime from just a 5-minute charge.
Key Features:
Hybrid Active Noise Cancellation (ANC) technology
Hi-Res Audio Certified for exceptional sound quality
Customizable EQ settings via the Soundcore app
Fast charging capabilities – 5 minutes of charging provides 4 hours of playtime
Comfortable and adjustable headband with soft memory foam earcups
Bluetooth 5.0 connectivity for seamless pairing with devices
Voice assistant support for easy hands-free control
Multipoint connection allows simultaneous pairing with two devices
3. Shokz OpenRun Pro Bone Conduction Headphones
SHOKZ OpenRun Pro – Open-Ear Bluetooth Bone…
Open-Ear Comfort – OpenRun Pro features our best…
Safety & Connection – OpenRun Pro ensures you…
Premium Sound Quality – Experience premium audio…
Secure Fit – A lightweight, wraparound titanium…
Bone conduction headphones like the Shokz OpenRun Pro are great for situational awareness while listening. The headphones transmit audio using soft vibrations through your cheekbones to your inner ear. This design leaves your ears open to hear ambient noises like people around you or equipment sounds.
The OpenRun Pro headphones are lightweight and comfortable for long wear. They also have an IPX5 rating to resist dust and moisture from sweating or weather. The 8-hour battery life means you can work in the yard all day on a single charge. Safety is enhanced with built-in reflectors and Bluetooth 5.1 connectivity.
Key Features:
Bone conduction technology allows for sound transmission through the cheekbones, leaving ears open to hear ambient sounds
Lightweight and comfortable design for all-day wear
Built-in microphone for hands-free phone calls
Bluetooth 5.0 connectivity for seamless wireless audio streaming
IPX5 water-resistant rating, making them suitable for outdoor activities and workouts
Quick charging capabilities with just 15 minutes of charging providing 2 hours of playtime
Easy-to-use controls for adjusting volume, skipping tracks, and answering calls on the go
4. COWIN E7 PRO [Active Noise Cancelling Headphones]
With professional active noise cancellation (ANC), the COWIN E7 PRO headphones block distractions up to 30 dB. This allows you to concentrate on your music whether you're mowing, trimming trees, or doing other tasks. The soft memory protein ear pads are comfortable even when worn for hours.
Featuring impressive 30-hour playtime, these affordable wireless over-ear headphones are great for all-day yard work. They work in both wireless and wired modes so that you can keep listening if the battery runs out. Quick charging for 15 minutes adds 2 hours of playtime. The built-in microphone enables clear hands-free calls.
Key Features:
Active noise cancellation technology
Improved sound quality with deep bass and clear highs
Comfortable over-ear design with soft protein ear cushions
Built-in microphone for hands-free calling
Bluetooth 5.0 for seamless wireless connectivity
Adjustable headband for a customized fit
5. TOZO NC9 Hybrid Active The Best Noise Cancelling Wireless Earbuds
Limited Time Sale
For affordable in-ear headphones, the Tozo NC9 wireless earbuds are a top choice. Their ergonomic design with silicone tips creates a comfortable and secure seal in your ear canals to block noise. You also get an IPX8 waterproof rating, allowing you to wear them in rain or with sweat without damage.
Despite the low price, these earbuds deliver surprisingly good sound quality. The large 14.2mm speaker drivers produce powerful bass and crisp treble. They provide 13 hours of listening per charge with 27 extra hours in the compact charging case. Voice control and one-touch access to Siri or Google Assistant make controlling your audio easy.
Key Features:
Hybrid active noise canceling technology
Bluetooth 5.0 connectivity
Intelligent touch control for easy navigation
IPX6 water-resistant rating for durability
Crystal clear sound quality with deep bass
Portable charging case for an additional 27 hours of battery life
Quick and stable pairing with devices
Comfortable and secure fit for all-day wear
Built-in microphone for hands-free calling
6. Sony WH-1000XM4 Wireless Noise Cancelling Headphones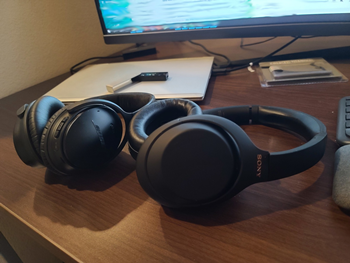 At the premium end, the Sony WH-1000XM4 over-ear headphones provide some of the best active noise cancellation on the market. Dual microphones feed noise data to a dedicated processor that generates an opposite signal to block ambient sounds. This allows you to focus on your music, calls, or podcasts without distraction.
With up to 30 hours of battery life, the Sony headphones can keep going for your longest yard work days. The soft, well-padded design provides a comfortable and lightweight fit. Smart features like wearing detection and Speak-to-Chat pause your audio when removing the headphones or talking to someone.
Key Features:
Wireless Bluetooth connectivity
Active noise cancellation technology
Adaptive sound control with personalized settings
Quick charging capability (10 minutes for 5 hours of playback)
High-resolution audio support for immersive listening experience
Voice assistant compatibility (Google Assistant, Alexa, Siri)
Touch sensor controls for easy navigation and music playback
Comfortable ergonomic design with adjustable headband and cushioned earpads
Built-in microphone for hands-free calls
7. Phiaton BT 220 NC Technology [Wireless Bluetooth Headphones]
Phiaton BT 220 NC Wireless Bluetooth Headphones…
ACTIVE NOISE CANCELLING HEADPHONES: ANC headphones…
EXTENDED LIFE: Phiaton's Everplay-X extension…
EXTRA LONG BATTERY: Listen to music, videos, audio…
CLEAR VOICE CAPTURE: Bluetooth Headphones Mic with…
Another flexible option with strong noise cancellation is the Phiaton BT 220 NC. Using an advanced digital hybrid system, these headphones cut ambient noise up to 95% whether you're mowing the lawn or using other loud power tools. The soft leatherette ear pads block noise while providing comfort.
Compact and lightweight, these headphones fold up to fit into an included protective case. The 16-hour battery life covers most yard work sessions. Updates via the Phiaton app provide custom control of ambient listening levels to suit your environment. Quality components like the 40mm drivers produce excellent audio.
Key Features:
Active noise-cancelling technology
Wireless Bluetooth connectivity
Built-in microphone for hands-free calling
Comfortable and ergonomic design
Foldable for easy portability
High-quality audio with powerful bass
Easy-to-use controls on the ear cups
Includes a carrying case for storage and travel
Compatible with both Android and iOS devices
8. Beats Studio Buds True [Wireless Noise Cancelling Earbuds]
Limited Time Sale
Beats Studio Buds – True Wireless Noise…
Custom acoustic platform delivers powerful,…
Control your sound with two distinct listening…
Three soft ear tip sizes for a stable and…
Up to 8 hours of listening time (up to 24 hours…
For noise cancellation in an in-ear design, the Beats Studio Buds deliver. Dual-element diaphragm drivers in each bud work with the internal and external microphones to block external noise. This provides the immersion you need for listening in loud environments.
These lightweight earbuds come with three sizes of soft, flexible tips for a secure and comfortable fit. The IPX4 water resistance allows them to withstand sweat or light rain when working outdoors. Quick charging via USB-C provides 1 hour of playtime from just 5 minutes of charging.
Key Features:
True wireless design
Active Noise Cancelling technology
Transparency mode for hearing ambient sounds
Fast Fuel charging provides an additional 1 hours of playback with just 5 minutes of charging
Sweat and water-resistant for workouts and outdoor activities
Customizable fit with three different ear tip sizes included
Bluetooth connectivity for seamless pairing with devices
9. Bose QuietComfort 45 Bluetooth Wireless Headphones
Limited Time Sale
Bose QuietComfort 45 Wireless Bluetooth Noise…
NOISE CANCELLING WIRELESS HEADPHONES: The perfect…
HIGH-FIDELITY AUDIO: The TriPort acoustic…
QUIET AND AWARE MODES: Choose Quiet Mode for full…
UP TO 22 HOURS BATTERY LIFE: Enjoy 22 hours of…
With their excellent balance of comfort and noise cancellation, the Bose QuietComfort 45 headphones are purpose-built for yard work. The soft synthetic leather ear pads and headband provide a comfortable fit that lasts all day. Dual-microphone ANC allows you to clearly hear every note and word.
The QuietComfort 45 headphones have an adjustable EQ in the app to customize sound to your liking. Alexa and Google Assistant voice control make managing music and calls hands-free. Quick charging gives you 3 hours of playtime from just 15 minutes on the charger. The high-quality audio performance exceeds expectations.
Key Features:
Active noise cancellation technology
Bluetooth wireless connectivity
Up to 22 hours of battery life
Comfortable and lightweight design
Intuitive touch controls for easy operation
Voice assistant support (such as Siri or Google Assistant)
Clear and immersive sound quality
Dual-microphone system for exceptional call clarity
Foldable design for easy portability and storage
10. Boompods Bassline TWS True Wireless Earbuds
BoomPods Bassline True Wireless Earbuds -…
✅ ONE TOUCH CONTROL: Equipped with easy touch…
✅ BLUE TOOTH 5.0 CONNECTIVITY: Earphones provide…
✅ CHARGER BOX: Bring your head phones with you…
✅ ERGONOMIC DESIGN: Built with comfort in mind,…
For an incredibly affordable option, the Boompods Bassline TWS wireless earbuds offer a lot for the price. While they lack advanced ANC, these sweatproof earbuds use passive noise isolation from the in-ear fit and sealed ear tips. This reduces ambient noise to keep your audio clear without breaking your budget.
These secure and comfortable earbuds come with multiple-sized ear tips for the best fit. The 35-hour combined battery life from the earbuds and charging case is sufficient for yard work. One-step pairing, auto-connect, and one-touch access to voice assistants like Siri make them easy to use. The sound is impressive for basic wireless earbuds under $30.
Key Features:
True wireless design
Bluetooth 5.0 technology for seamless connectivity
Enhanced bass and high-quality sound
Ergonomic design for a comfortable fit
IPX7 water-resistant rating for durability
Touch controls for easy operation
Built-in microphone for hands-free calling
Quick charging and long battery life
11. Jabra Elite 85t True Wireless Noise Cancelling Earbuds
Limited Time Sale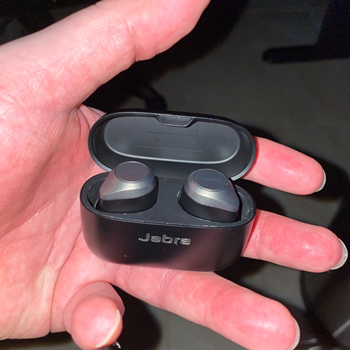 Engineered for superior calls and music, the Jabra Elite 85t in-ear headphones feature premium ANC. Multiple microphones feed data to a dedicated chip that generates inverse audio waves to block outside noises. This allows you to hear every detail even in noisy yard environments.
With 5.5 hours per charge plus 19 extra hours from the charging case, the Jabras have all-day battery life. They have a comfortable design that creates a secure in-ear seal for noise isolation. The IPX4 water resistance also enables reliable performance while working up a sweat.
Key Features:
True wireless design
Active noise cancellation technology
12mm speakers for immersive sound quality
Dual connectivity with Bluetooth 5.1 and USB-C
Up to 5.5 hours of battery life on a single charge (up to 25 hours with charging case)
Customizable sound experience using the Jabra Sound+ app
Built-in four-microphone system for crystal-clear calls and voice assistant commands
IPX4-rated water and sweat resistance for durability during workouts or outdoor activities
HearThrough mode allows ambient sounds for situational awareness
12. Anker Soundcore Life P3 Noise Cancelling Earbuds
Limited Time Sale
Soundcore by Anker Life P3 Noise Cancelling…
Noise Cancelling Bundle: Life P3 has multi-mode…
Life P3 Noise Cancelling Earbuds: Thumping sound…
Enhanced Call Performance: Life P3 noise…
Life Q20 Noise Cancelling Headphones: Enjoy Hi-Res…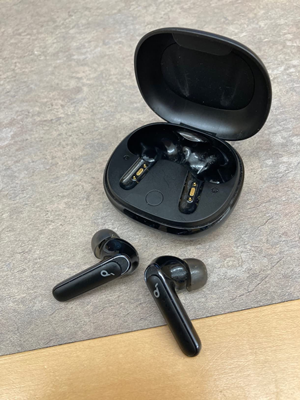 Anker's Soundcore Life P3 earbuds offer excellent noise cancellation performance on a budget. Each earbud contains two microphones that pick up outside sounds. Customized noise reduction you control through the app allows you to reduce distractions.
Featuring massive 11mm bass drivers, these affordable wireless earbuds reproduce audio with forceful bass and great clarity. The ear tips include multiple sizes for a secure and comfortable in-ear seal. Quick charging gives you an hour of playtime from 10 minutes on the charger.
Key Features:
Active Noise Cancellation (ANC)
Transparency mode for hearing ambient sounds
6 microphones for clear phone calls
Customizable EQ settings
IPX5 water-resistant rating
Up to 7 hours of playtime on a single charge (30 hours with the charging case)
Fast charging capability (10 minutes of charge provides 1 hour of playtime)
Bluetooth 5.2 connectivity for stable and seamless connection
Touch controls for easy operation
Compact and lightweight design for comfortable wearing
13. Bowers & Wilkins Pi7 True Wireless Headphones
Limited Time Sale
Bowers & Wilkins Pi7 In-Ear True Wireless…
RICH, PRISTINE SOUND QUALITY – Featuring Bluetooth…
Product Note : If the size of the earbud tips does…
ADVANCED NOISE CANCELLATION – The PI7 features a…
CHARGING CASE WITH MEDIA STREAMING – Comes with a…
For premium sound performance, the Bowers & Wilkins Pi7 in-ear headphones are tough to beat. Advanced noise cancellation uses external mics on the earbuds coupled with internal mics to eliminate ambient noise. This provides immersive audio whether you're cutting grass or pruning trees.
Beautifully constructed with top-tier components like customized drivers, these earbuds produce incredible audio with deep bass and crystal-clear treble. They fit securely with a choice of silicon tips for lasting yard work comfort. Quick charging in the pocket-friendly case gives you 2 hours of playtime in 15 minutes.
Key Features:
Customizable EQ settings
IPX5 water-resistant rating
Up to 7 hours of playtime on a single charge (30 hours with the charging case)
Fast charging capability (10 minutes of charge provides 1 hour of playtime)
Active Noise Cancellation (ANC)
Transparency mode for hearing ambient sounds
6 microphones for clear phone calls
Bluetooth 5.2 connectivity for stable and seamless connection
Compact and lightweight design for comfortable wearing
14. Sennheiser Momentum 3 Wireless Noise Cancelling
Limited Time Sale
SENNHEISER Momentum 3 Wireless Noise Cancelling…
Auto on:off and smart pause never miss a beat with…
Active noise cancellation and transparent hearing…
Exceptional comfort soft ear pads and headband…
Three button interface provides easy operation…
Combining signature Sennheiser sound with top-notch ANC, the Momentum 3 over-ear headphones are designed for audiophiles. Adjustable noise cancellation up to 30dB uses microphones both inside and out for superior blocking of external noise. This lets you focus completely on the brilliant sound.
Crafted using premium materials like genuine leather and stainless steel, these headphones feel as good as they sound. Memory foam ear pads provide exceptional comfort for extended wear. The 17-hour battery life will get you through even marathon yard work sessions on a single charge.
Key Features:
Active Noise Cancellation to block out external distractions and immerse in the music
Smart Control app for customization of sound settings and easy control of the headphones
Comfortable over-ear design with soft earpads for extended listening sessions
Auto On/Off feature to preserve battery life when not in use
Transparent Hearing mode to let in external sound when needed
15. Panasonic RZ-S500W Rugged Wireless In-Ear Headphones
Limited Time Sale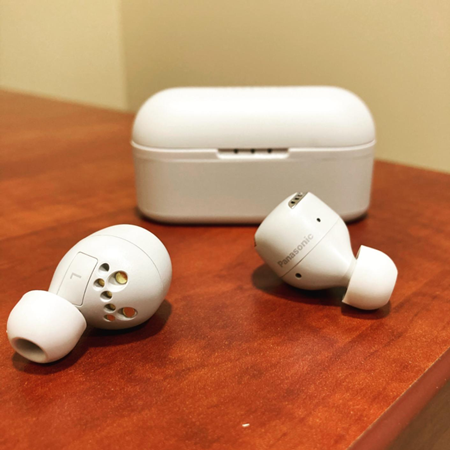 If you'll be working outdoors in all weather, the Panasonic RZ-S500W earbuds were built tough. With an IPX4 rating, they can withstand splashing water, sweat, and dust. The included ear tips provide a secure fit to keep them in place as you move. Active noise cancellation uses dual mics to reduce ambient sounds.
Despite their rugged design, these lightweight headphones deliver excellent audio. Dual drivers in each earbud cover an expansive frequency range with dynamic bass and crystal clear mids/highs. It is one of the best headphones that cancel the background noise. Quick charging provides 80 minutes of playtime from a 10-minute charge. They're a durable option for any outdoor job.
Key Features:
Rugged design for added durability
Wireless connectivity for convenience and freedom of movement
High-quality sound with powerful bass and clear treble
IPX7 water resistance rating for protection against sweat and rain
Noise-cancelling technology for immersive listening experience
Quick charge capability for extended playback time
Ergonomic design for a comfortable fit during long listening sessions.
Key Features to Consider For Wireless Headphones
When shopping for wireless headphones to make yard work more pleasant, keep these key features in mind:
Noise Cancellation: Advanced active noise cancellation uses microphones to block ambient sounds. This feature is vital for immersive audio when working around lawnmowers and other loud equipment. Passive noise isolation from in-ear tips reduces noise as well.
Secure Fit: Headphones that fit snugly with padded headbands or ear tips are less likely to fall out as you move around the yard. Optimal noise isolation requires a proper seal.
Comfort: Cushioned materials like leather and soft foam allow headphones to be worn for hours without discomfort or pain.
Sweat/Water Resistance: Durable water and sweat resistance allows headphones to handle moisture from the weather or your body as you work up a sweat.
Battery Life: Long battery life or quick charging ensures your headphones will last for yard work sessions and not die mid-task. Optimal active noise cancellation requires power.
Voice Control: Hands-free access to voice assistants allows you to manage music, take calls, or get information without touching buttons.
Audio Quality: Quality drivers and components allow you to hear your audio clearly over typical ambient lawn noise for an enjoyable experience.
How Do Noise Cancelling Wireless Headphones Work?
Noise cancelling wireless headphones use tiny microphones built into the headphones to pick up ambient sounds around you. The headphones contain a processor chip that analyzes this noise. It generates an inverse audio wave designed to cancel out and mute the outside noises before they reach your ears. This active electronic system allows you to immerse yourself in your music or podcasts, tuning out loud distractions.
Advanced noise cancelling headphones utilize a dual system with both internal and external microphones working together. This collects noise data from both inside and outside the headphones to fine tune the cancellation signal. Some systems also allow you to adjust the level of noise cancellation to let in some ambient sound when preferred.
This technology works best on consistent noises like the drone of a lawn mower engine. For variable sounds, the system makes real-time corrections multiple times per second. Covering the external microphones will diminish noise reduction performance.
Top Uses for Wireless Headphones During Yard Work
Listening to wireless headphones makes yard work much more enjoyable. Here are the top uses for headphones for common lawn and yard tasks:
Listening to music or podcasts while mowing the lawn, trimming hedges, raking leaves, or doing other repetitive chores. This makes the time pass quicker and more pleasantly.
Taking phone calls hands-free when getting tasks done around the yard. Noise cancelling microphones allow callers to hear you clearly.
Hearing audio cues and directions from voice assistants like Siri for controlling music playback and other commands. This allows hands-free control.
Blocking out irritating environmental noises like leaf blowers, lawn mower engines, and weed whackers for noise reduction and concentration. This prevents distractions.
Keeping entertained with audiobooks and other entertainment during solo tasks requires focus but allows for listening. This enhances productivity.
Maintaining situational awareness for safety despite wearing headphones by allowing some ambient sound to bleed. Open earbuds are optimal for hearing your surroundings.
Getting energized and focused with motivational music and productivity podcasts to power through yard work efficiently. The right audio can boost your mental state.
Safety Tips for Wearing Headphones While Doing Yard Work
While headphones make yard work more pleasant, follow these tips for staying safe while wearing them:
Leave one earbud out to maintain situational awareness while mowing and using loud power tools. This allows you to hear hazards. Open-ear bone conduction headphones are also great for this purpose.
Keep headphone volume moderate to hear outside noises like people trying to get your attention or equipment sounds indicating problems.
Avoid zoning out completely with music during tasks requiring concentration like using hedge trimmers or riding mowers. Stay mentally engaged.
Don't wear noise-canceling headphones near roads or sidewalks where the inability to hear traffic or passersby presents dangers.
Ensure a secure headphone fit so they don't slide or fall out as you look around or move your head near equipment.
Keep headphone cords secured or use wireless headphones to avoid getting tangled in equipment. Remove headphones before using machines with moving blades.
Take off headphones or lower the volume when conversing with others in your yard to improve communication and avoid shouting.
Switch headphones to transparency/ambient listening mode when needed to converse, remain alert, or monitor equipment sounds. Then re-enable noise cancellation when possible.
Avoid headphones in extremely wet conditions that increase electric shock risks. Use weatherized headphones rated at least IPX4 water resistant.
Conclusion
A great pair of wireless headphones makes yard work go from a loud, mundane chore to an enjoyable, productive time. Noise cancelling headphones allow you to listen to music, podcasts, and calls without the distraction of lawnmowers and leaf blowers. Water and sweat resistance enables them to withstand the elements while working outdoors.
Comfortable padding reduces ear and head fatigue during long work sessions. Situational awareness modes and open earbuds allow you to remain alert to your surroundings.
Following basic safety tips allows you to reap these benefits safely. With the right wireless headphones, you can transform yard work into me time.
Frequently Asked Questions (FAQs)
Do wireless headphones work well for yard work?
Yes, wireless headphones are ideal for yard work. They allow you to listen to audio entertainment hands-free while cutting grass, trimming hedges, and doing other outdoor chores. Bluetooth connectivity avoids getting tangled in cords.
Key features like noise cancellation, water/sweat resistance, good battery life, and voice control make wireless headphones the optimal yard work companion.
Should I choose over-ear or in-ear wireless headphones?
Over-ear headphones offer better noise isolation through fuller coverage and padding. But in-ear options are more portable and can also create a decent passive seal.
For hearing protection, over-ear headphones tend to be preferable. In-ear headphones work well if portability and lightweight design are your priorities. Evaluate your needs.
How loud should I listen through wireless headphones while doing yard work?
It's best to keep volume moderate, around 50-80% max. Very loud volumes are harmful to your hearing and block out important ambient sounds. Active noise cancellation allows lower volumes to still hear audio clearly.
Situational awareness requires avoiding extremely loud playback. Start low and increase volume as needed while remaining mindful.
What features help wireless headphones withstand yard work conditions?
Key features include water and sweat resistance (IPX4 or higher), impact/shock resistance, tightly sealed yet comfortable ear pads, padded and adjustable headbands, and sturdy overall construction using durable plastics/metals.
These allow headphones to handle moisture, debris, weather, and the physical demands of working outdoors.
Should I choose bone conduction or over-ear headphones for yard work safety?
For optimal safety awareness while listening to headphones, bone conduction headphones are preferable because they leave your ears open. This allows you to maintain spatial sound perception to hear hazards over your audio.
Over-ear headphones with good situational listening modes also work well. Never zone out completely. Stay alert.
Relevant Review Guides And Tips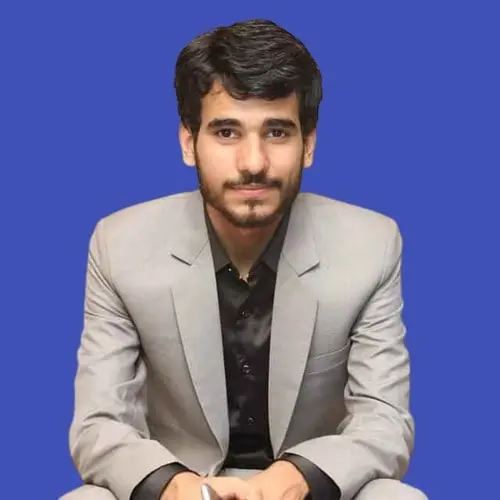 Anneq Aish Choudhary is a passionate writer with a keen interest in headphones and music. With years of experience in writing about technology, Anneq has a deep understanding of the latest trends and innovations in the headphone industry. Anneq's articles provide valuable insights into the best headphones on the market.