If you're in the market for a pair of premium wireless headphones with active noise canceling (ANC), two models you're likely considering are the Soundcore Q45 and Sony WH-1000XM4. As leading headphones in the ANC space, both deliver exceptional sound quality and noise reduction capabilities. But how do they compare, and is one model clearly better than the other?
In this in-depth comparison, we'll examine the key features and performance of the Soundcore Q45 and Sony WH-1000XM4 to help you determine which pair of ANC headphones is the right choice for your needs and budget.
Soundcore Q45 vs Sony WH-1000XM4: Which Wireless ANC Headphones Are Better?
When it comes to wireless ANC headphones, the Soundcore Q45 and Sony headset are two top contenders that offer impressive features. While both models have active noise cancellation, they differ in certain aspects that may sway your decision.
1. Sound Quality and Sound Profile
Arguably the most important factor when choosing a pair of headphones is sound quality. You want headphones that produce audio that is clean, balanced, and accurate across the frequency range.
Both the Q45 and WH-1000XM4 deliver superb sound quality, but they differ slightly in their overall sound profile. Here's a quick rundown:
1. Q45: The Soundcore headphones produce a rich, warm sound profile with punchy bass, clear mids, and crisp highs. The bass has a tighter, more controlled thump compared to the Sony. The sound leans slightly towards a V-shaped profile, with emphasis on the lows and highs.
2. WH-1000XM4: Sony's headphones have a more neutral-leaning sound signature. The bass is still impactful but not overly boosted. Mids are natural and vocals sound full-bodied. Highs have excellent detail and clarity. Overall, the sound is very well-balanced.
Winner: So in terms of pure sound quality, both models are excellent. The Q45 may appeal more to bass lovers, while those wanting a flatter, reference-like sound will appreciate the WH-1000XM4.
2. Noise Canceling and Ambient Sound
A prime reason to get wireless ANC headphones like these is for effective noise reduction. Both models deliver exceptional active noise canceling powered by integrated chipsets and microphones.
The Q45 uses Soundcore's updated QuietSmart 2.0 ANC system with a hybrid digital/feed-forward ANC to block out background noise across the frequency curve. The level of silence is impressive, cutting out everything from low rumbles to high-pitched sounds. Up to 98% of ambient noise is reduced, making these great for noisy environments like planes or commuting.
Sony's industry-leading noise canceling is showcased in the WH-1000XM4. Using a dual-sensor system with HD noise canceling processor QN1, these headphones continuously adapt to your environment to eliminate external ambient noises. Low-, mid, and high-frequency sounds are suppressed with astonishing effectiveness.
In terms of ANC performance, both models are among the best in the industry. Some may find the Sony headset achieves slightly better overall noise reduction, but the Q45 also delivers exceptional damping of ambient sound.
Winner: For letting in surrounding sounds when desired, the Q45 and WH-1000XM4 both have transparency mode that amplifies vocal frequencies for situational awareness. The Sony also has adaptive ambient sound control that automatically adjusts based on your activity.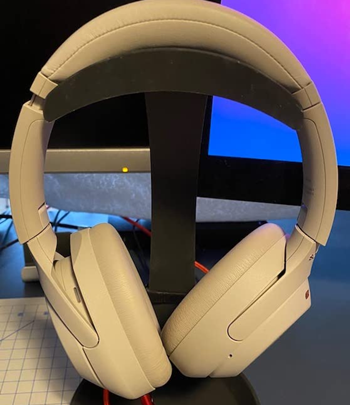 3. Design, Comfort, and Controls
ANC headphones can easily get uncomfortable during extended listening sessions, so design and wearability are important factors.
The Q45 features an over-ear design with oval-shaped earcups that are spacious and don't clamp too tightly. The headband is padded and adjustable to find the ideal fit. Controls are on the right earcup for play/pause, track skip, ANC mode, and volume. The buttons are well-positioned and intuitive to use.
Sony's headphones have a very comfortable and lightweight design featuring synthetic leather and soft foam padding on the headband and ear cups. The earcups are oval with a circumaural (around-ear) fit. On-cup controls like the Q45 make it easy to manage music and ANC. The headphones fold into a more compact size.
Winner: Both models feel great during longer listening sessions thanks to their comfortable fit. The WH-1000XM4 may have a slight edge in long-term comfort and compact folding design. But the Q45 is also very solid in this regard.
4. Battery Life
Long battery life is essential for travelers and commuters who need hours of listening time. Here's how the two headphones compare:
Q45: Up to 50 hours of playback per charge with ANC on. 60 hours with ANC off. Quick charge provides 4 hours from a 5-minute charge.
WH-1000XM4: Up to 30 hours per charge with ANC on. 38 hours with ANC off. Quick charging gives 5 hours from 10 minutes of charging.
The Q45 offers significantly longer battery life compared to the WH-1000XM4 – around 20+ hours more stamina per charge. You'll get nearly two days of listening from the Q45 versus about a day with the Sony model. Both quick charge efficiently, but the Q45 gives you more play time from shorter charging sessions.
5. Call Quality and Connectivity
Call quality is important if you'll be taking phone calls with your ANC headphones. Connectivity strength is also key.
For voice calls, the Q45 utilizes 6 mics with cVc 8.0 noise reduction technology for crisp, echo-free call quality. Sony's WH-1000XM4 uses Precise Voice Pickup to isolate your voice and suppress ambient noise during calls. Both deliver good call performance, with the edge going to the Q45.
Winner: In terms of wireless connectivity, the Q45 and Sony headset both use Bluetooth 5.2 for reliable pairing and range, along with support for the AAC and SBC codecs. The Sony adds LDAC and Sony's DSEE Extreme upscaling for high-resolution music. Either provide excellent wireless connectivity in most use cases.
6. Smart Features and App Support
ANC headphones packed with extra features often have companion mobile apps to control settings and customizations.
The Soundcore app for iOS and Android allows you to tweak EQ, ANC, and ambient levels on the Q45. There are also fun features like Sleep mode, Find My Headset and customizable touch controls.
Sony's WH-1000XM4 gets the most smart features including Speak to Chat, adaptive ANC modes, 360 Spatial Audio, and Alexa voice support. The Sony Headphones app unlocks customizable ANC and more.
Winner: Both provide handy apps to get the most out of your headphones, although Sony packs in more advanced smart capabilities.
7. Key Strengths
Here's a quick recap of the key strengths of each model:
Q45 strengths:
Great sound with a warm, bassy profile
Class-leading battery life
Excellent noise reduction
Very comfortable fit for long listening
Great value and price
WH-1000XM4 strengths:
Industry-leading ANC and ambient modes
Neutral, highly detailed sound
More advanced features like spatial audio
Very comfortable and premium design
Best-in-class mic system for calls
8. Price and Value
Lastly, let's compare the price and overall value you're getting.
The Soundcore Q45 retails for $149.99, although discounts can drop them below $100. For the price, they deliver awesome ANC, great sound, long battery life, and solid app support. You're getting a lot of performance and features for the money.
Sony's premium headset commands a higher $349.99 MSRP. But being among the top ANC headphones, they've earned it with bespoke features like spatial audio, auto-pause, speak-to-chat, and multi-device pairing. Still, the price gap is significant.
Winner: Overall, the Q45 gives you 80-90% of the Sony's performance at half the cost or less. Unless you need every one of Sony's extra features, the Q45 offers incredible value.
Conclusion
Based on this in-depth comparison, both the Soundcore Q45 and Sony WH-1000XM4 are excellent wireless ANC headphones that I can recommend. The Sony does edge out the Q45 when it comes to noise-canceling abilities, smart features, sound quality, and design. However, for the vast majority of listeners, the Q45 provides a nearly equivalent experience for much less money.
In the end, I think the Soundcore Q45 is the better buy for most buyers. The super long battery life, warmer sound, and incredible value make them hard to pass up compared to the pricier Sony WH-1000XM4. Unless you really need every one of Sony's extra bells and whistles, the Q45 will satisfy even discerning listeners – all for under $100.
Frequently Asked Questions FAQs
What is the difference in battery life?
The Q45 gets around 50 hours of playback per charge while the WH-1000XM4 manages about 30 hours max with ANC on. You get a significantly longer runtime with the Soundcore model.
Which has better noise canceling?
Both provide excellent active noise cancellation, but Sony's WH-1000XM4 edges out the Q45 when it comes to overall noise reduction and ambient sound modes. However, the Q45 still performs among the best in its price range.
Which headphones have better sound quality?
While both deliver excellent audio performance, this WH-1000XM4 has a slightly more neutral, detailed sound while the Q45 leans warmer with enhanced bass and highs. But the sound quality is superb on both models.
What headphones are more comfortable?
The over-ear cushions and adjustable fit make both models comfortable for long listening sessions. Sony may have a slight advantage when it comes to weight and premium materials, but not by much compared to the quality Q45 design.
Which headphones have better connectivity?
The Q45 and WH-1000XM4 both use the latest Bluetooth 5.2 standard for solid wireless connectivity. Latency is very low on video and gaming. The Sony adds high-resolution LDAC codec support which some may prefer.
Relevant Comparison Guides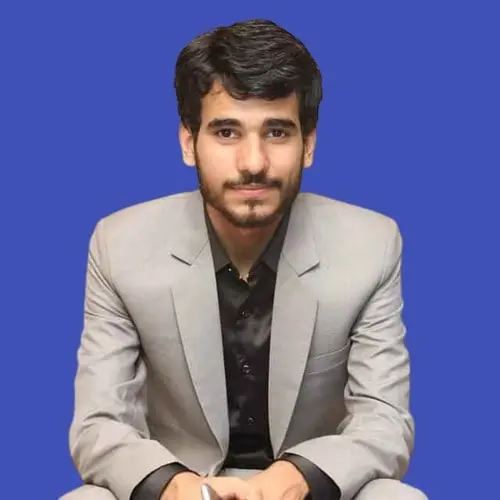 Anneq Aish Choudhary is a passionate writer with a keen interest in headphones and music. With years of experience in writing about technology, Anneq has a deep understanding of the latest trends and innovations in the headphone industry. Anneq's articles provide valuable insights into the best headphones on the market.