Working in construction can be noisy with all the power tools, machinery, and general chatter happening around the job site. This constant noise can make it difficult to hear instructions or potentially dangerous situations approaching. That's why having a good pair of protective headphones is essential for any construction worker.
The right headphones allow you to listen to music or take phone calls, while also protecting your hearing by blocking out hazardous background noises. They need to be durable and comfortable enough to withstand long hours on the job site. Key features to look for include noise cancellation, water resistance, long battery life, and Bluetooth connectivity.
The HeadPhones Baba team has rounded up the top 15 headphones that provide the ideal combination of protection, comfort, and performance for those working in construction.
Top 3 Construction Headphones [Current Deals]
Why Construction Workers Need Headphones?
Before jumping into the top picks, let's look at why good headphones are a necessity for those working in the construction industry:
1. Safe Hearing Protection
The high noise levels at a construction site can damage hearing over time. OSHA regulations actually require hearing protection when noise exceeds 85 decibels over an 8-hour shift. Quality headphones with noise cancellation allow you to listen to music or call at a safe volume while blocking out ambient noise.
2. Improved Communication
Headphones allow you to clearly hear phone calls or instructions without straining to listen over background noise. Some models even have built-in microphones to improve call clarity on your end.
3. Increased Focus
The ability to play music helps improve focus while performing tasks or powering through the workday. It can also boost morale when doing repetitive jobs.
4. Situational Awareness
You'll still be able to hear nearby co-workers or equipment with headphones designed to let in ambient noise. This allows you to stay alert to your surroundings.
5. Comfort
Comfort is key when wearing headphones for hours at a time. Cushioned, adjustable, and lightweight designs prevent ear fatigue throughout the workday.
15 Best Headphones For Construction Work [Top Quality Picks]
Now let's look at the Best headphones for construction work with mic picks for optimized construction performance.
1. 3M WorkTunes Connect Hearing Protector
The 3M WorkTunes Connect provides great passive noise reduction with a 24dB rating. The soft ear cushions block out construction noise comfortably. Bluetooth allows wireless connection to your phone or radio.
The 32-hour battery life means they'll last through multiple long shifts. For a budget-friendly option with good noise protection, the 3M WorkTunes Connect is a top choice.
Features
Bluetooth, noise cancellation rating of 24dB, AM/FM radio
Battery Life
Up to 32 hours per charge
Pros
Excellent noise protection
Long battery life
Comfortable over-ear fit
Affordable price point
HIGH-FIDELITY SPEAKERS
Cons
The sound quality just average
2. Sony WH-1000XM4 Wireless Premium Noise Canceling Overhead Headphones
Designed specifically for construction use, the Sony WH-1000XM4 is one of the best wireless earbuds for construction workers which provides excellent hearing protection and durability. The 30dB noise cancellation blocks even very loud equipment and machinery.
They have a sturdy, waterproof build that can withstand dust and rain on the job site. The battery provides an extremely long 30-40 hours of use. While not wireless, they do have a retractable microphone and auxiliary input cord. Overall,
the Husarens are a top-rated rugged wired option.
Features
30dB noise cancellation rating, retractable microphone, auxiliary input, volume limiter, waterproof
Battery Life
30-40 hours per charge
Pros
Very effective noise-blocking
durable waterproof/dustproof construction
Long battery
Affordable
Cons
heavier than other models
3. ISOtunes LINK 2.0 Bluetooth Earmuffs
With an impressive 27dB noise cancellation rating, the ISOtunes PRO Earbuds are engineered to block ambient construction noise. The dual microphones allow for clear calls, while the Bluetooth connectivity lets you go cord-free.
Designed for all-day wear, the earbuds have gel tips for comfort and weatherproof nano-coating. With great noise protection and wireless features, these are an excellent in-ear choice. However, the battery only lasts around 10 hours versus higher capacities of over-ear options.
Features
Noise cancellation rating of 27dB, Bluetooth 5.0, weatherproof
Battery Life
50 hours per charge
Pros
Good noise blocking performance
Wireless Bluetooth connection
Low profile in-ear design
Noise isolating hearing safety
Safemax technology
Cons
No ambient listening mode
4. DEWALT DPG17 Wireless Earbuds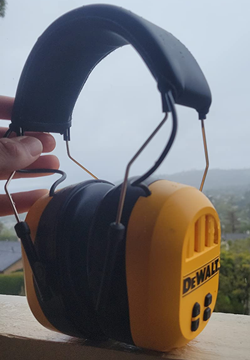 From a leading construction brand, DEWALT is the best headphones for labour, these wireless earbuds are built for performance and durability on the job site. They connect via Bluetooth to your device for cord-free listening. The 12dB noise cancellation provides moderate sound blocking, allowing you to hear ambient noises like coworkers.
With an IP65 water-resistant and rubberized finish, the DEWALTS withstand tough conditions. The downsides are the lower noise cancellation. But the durable design from a reputable brand makes these earbuds a solid affordable option.
Features
Bluetooth, 12dB noise cancellation rating, rubberized finish, carrying case
Pros
Trusted brand designed for worksites
Good sound with deep bass
Comfortable secure fit
Cons
Need to recharge more frequently
5. Avantree HT5009 40Hrs Wireless Bluetooth Headphones
For those wanting headphones that combine performance with sleek aesthetics, the Avantree HT5009 is a great choice. The modern design features plush memory foam earcups that provide exceptional comfort for prolonged wear.
With Bluetooth 5.0, they connect to your devices wirelessly and fold into a compact size. The noise cancellation rating of 22dB still allows you to hear ambient noises.
Battery life reaches over 40 hours of continued use. While pricier than other options, the Avantis delivers in both form and function.
Features
Bluetooth 5.0, noise cancellation rating of 22dB, foldable, built-in microphone
Battery Life
40 hours of talk/play per charge
Pros
Sleek stylish design
Very comfortable memory foam earcups
Good quality sound
Hassle-free set up
Soundbar/stereo avr support
6. Decibullz Custom Molded Earplugs
The Decibullz provides an ingenious customized solution to block out construction noise. Each pair arrives with molds that you heat and shape to perfectly fit your ears. This snug tailored fit creates an impressive 31dB seal that drastically reduces ambient noise.
Despite being passive plugs, the Decibullz rate matches or beats many powered electronic models. The corded neckband design keeps them securely around your neck. You do lose the freedom of wireless, but the unmatched noise cancellation and custom comfort make these a top hearing protector.
Features
31dB noise cancellation rating, custom molded fit, carrying case, detachable neck cord
Pros
Extremely effective noise-blocking
Personalized comfortable fit
Affordable
Easy to use
Cons
Takes time to mold properly
7. Skullcandy Indy Evo In-Ear Wireless Earbuds
With its combination of performance, comfort, and value, the Skullcandy Indy Evo Headphones are one of the best Bluetooth headphones for construction workers. The large drivers deliver bold, high-quality audio with punchy bass. Its noise cancellation rating of 26dB effectively blocks external sounds while listening.
The lightweight design and cushioned earcups provide comfortable prolonged wear. Add in the 30-hour battery life and retractable fold-up arms, and you get a compelling package for an affordable price. The only drawback is possible
durability issues with rugged use.
But for most, the Phaisers strike the ideal balance of features and cost.
Features
Never lost with Tile, noise cancellation rating of 26dB, Skullcandy Supreme Sound, built-in mic
Battery Life
Phaiser Foldable Over-Ear Headphones 30 hours battery timing.
Pros
Strong noise blocking performance
Quality hi-fi sound
Lightweight comfortable design
Affordable Due to Low pricing
Cons
The left bud stopped charging according to some users
8. Original Howard Leight Sync Wireless Earbuds
Howard Leight makes trusted hearing protection products designed for construction and industrial use. The Sync Wireless Earbuds provide effective 25dB noise blocking in a fully cordless in-ear design. They connect via Bluetooth for up to 30 feet of range.
With an IP67 rating, the earbud case and housing are waterproof and sweat-resistant. Battery life reaches 16 hours on a single charge. While not as long as over-ear options, it still allows for full-shift use. For those wanting a rugged fully wireless earbud, the Howard Leight Syncs are a great construction-ready option.
Features
Noise cancellation rating of 25dB, Bluetooth, IP67 waterproof rating, built-in mic
Battery Life: 16 hours
Pros
Good noise reduction
Fully wireless in-ear design
Sweat/water-resistant casing
Cons
Battery life is shorter than over-ear models
9. Soundcore Anker Life Q20 Hybrid Active Noise Cancelling Headphones
The Anker Life Q20 Hybrid provides a solid balance of performance and value. They deliver quality audio and 60 hours of battery life for less than $60. The generous ear cushions reduce outside noise to a 20dB rating. While lower than top picks, this allows you to hear nearby co-workers.
Convenient features like the foldable design, Bluetooth connectivity, and built-in microphone make this ideal for everyday construction use. Just don't expect top-tier noise canceling or audio. But for the price, the Mpow 059s are an unbeatable value pair.
Features:
Bluetooth 4.1, noise cancellation rating of 20dB, foldable, built-in mic
Battery Life: 60 hours
Pros
Very affordable price
Decent noise reduction
Good & comfort
Hi-Res Audio
Reduce Ambient Noises By Up to 90%
10. Sony WH-CH720N Noise Canceling Wireless Headphones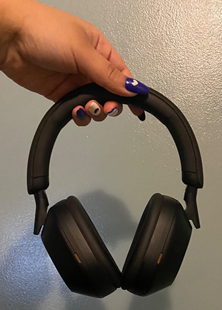 With stellar sound performance and amenities, the Sony WH-CH720N is worth the investment for audiophiles. They pump out full immersive audio with deep bass and precision treble. It is one of the best noise cancelling headphones. The active noise cancellation blocks ambient sounds while listening. You can also turn off ANC to hear your surroundings.
Support for hi-res audio, NFC pairing, and Bluetooth 5 provide top-notch wireless performance. While pricey, the Sony WH-CH720N delivers superb sound and comfort for all-day construction wear.
Features
Bluetooth 5.0, ANC noise cancellation, built-in mic, NFC pairing
Battery Life: 35 hours with ANC
Pros
Excellent sound quality
Active Noise Cancelling (ANC) technology
Comfortable & fit
Long battery life
Bluetooth Quality
Cons
According to users Device would adapt to the sound around you
11. Otium Bluetooth Earbuds Wireless Headphones Bluetooth Headphones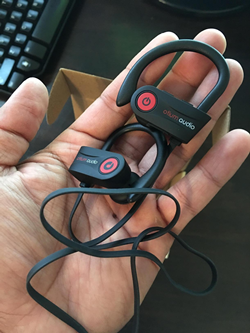 As a budget-friendly option, the Otium Wireless Earbuds provide surprising value and performance. They pump out bold, balanced sound with thumping bass. The in-ear design provides decent passive noise isolation. While it won't fully block loud construction noises, it mutes ambient sounds.
Sweat and water resistance make them ideal for active use. Bluetooth 5 and auto pairing make connecting seamless. The new improved lithium polymer battery allows seamless enjoyment of music for up to 8 hours and 240 hours stand-by with a charge of only 1.5 hours.
The neckband design prevents troublesome wires from tangling during your workout. If you want affordable wireless earbuds with solid overall performance, the Otiums deliver.
Features
Bluetooth 5.0, IPX5 water resistant rating, auto pairing, built-in mic
Battery Life: 8 hours
Pros
Affordable price
Quality sound with punchy bass
Sweat/water-resistant
Cons
Need to recharge more often
12. Bose Headphones 700, Noise Canceling Bluetooth Over-Ear Wireless Headphones
Limited Time Sale
Bose Headphones 700, Noise Cancelling Bluetooth…
POWERFUL NOISE CANCELLING HEADPHONES: 11 levels of…
ASTONISHING SOUND: Crisp, clear details. Deep,…
UNRIVALED VOICE PICKUP: A revolutionary microphone…
KEEP YOUR HEAD UP AND HANDS FREE: With easy access…
Featuring the highest noise cancellation rating on this list, the Bose Headphones 700 can block even the loudest noises. The in-ear design couples with the 38dB rating to effectively eliminate harmful ambient noises. Sound quality is also decent with rich bass and clear mids thanks to the hi-fi Bluetooth 5 streaming.
Simple on-bud controls make it easy to adjust the volume or take calls. Key drawbacks are the expensive price tag and shorter 20-hour battery life. But for unparalleled noise blocking, the EBose Headphones 700 are worth the investment.
Features
38dB noise blocking, high-fidelity Bluetooth 5, battery meter, dual beam mic
Battery Life: Upto 20 hours
Pros
Most effective noise cancellation on list
Decent sound quality
Simple controls
Hi-res streaming
UNRIVALED VOICE PICKUP
Cons
Flat out sucks with just ONE connection
13. TREBLAB XR700 – Wireless Running Earbuds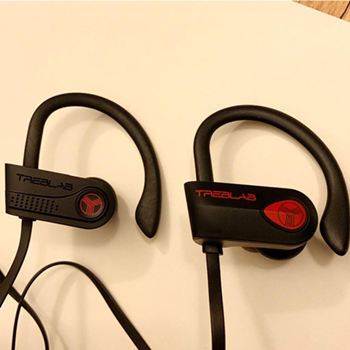 While not as advanced as Bluetooth models, the XR700 Earbuds by TREBLAB are perfect for those who value extended battery life and affordability. They provide noise isolation up to 20dB through a quality in-ear seal. Flexible wraparound hooks keep them securely in place all shift long.
The IPX4 rating makes them sweatproof and splash-resistant headphones. Where they really shine is the whopping 9 hours of battery life, outlasting every other pair here. So if you want marathon battery life at a budget-friendly price, these are ideal. Just note they are wired instead of wireless.
Features
9-hour battery life, IPX4 water-resistant, flexible ear hooks, noise isolation
Battery Life: 9 hours
Pros
Exceptionally long battery life
Sweat/water-resistant
Secure comfortable fit
Unique HD Sound For Increased Energy
Perfect Run In Any Weather
Cons
Wired instead of wireless
14. 3M WorkTunes Connect + AM/FM Hearing Protector with Bluetooth Wireless Technology
The 3M WorkTunes Connect Headphones provide a solid combination of sound quality, comfort, and value. They connect wirelessly via Bluetooth 5.0 and deliver premium audio with enhanced bass. The over-ear design blocks construction noise at 23dB and folds up into an included carrying case.
With an impressive 30 hours of battery life, these are great for prolonged use. While noise cancellation isn't as powerful as the top picks, the 3M WorkTunes strike a good balance across all features.
Features
Bluetooth 5.0, noise cancellation rating of 23dB, foldable design with carrying case
Battery Life
30 hours of talk/play time per charge
Pros
Long battery life
Quality sound with deep bass
Comfortable cushioned ear cups
EXCELLENT AM/FM RADIO
AUDIO ASSIST TECHNOLOGY
Cons
According to users of 3M WorkTunes Bluetooth didn't work after some time
15. BASN In-Ear Headphones
The BASN In-Ear Headphones provide excellent passive noise reduction more affordably than many Bluetooth models. The snug in-ear design blocks external noise at a 24dB rating. To withstand demanding job site conditions, they feature a Kevlar-coated cord that prevents fraying or damage.
Multiple included fit kit options ensure you find the right custom fit. While sound quality takes a backseat to noise
cancellation and durability, the BASNs
deliver on both fronts. They make a fantastic
affordable passive noise-blocking choice.
Features
Noise cancellation rating of 24dB, Kevlar coated cables, various fit kit sizes
Pros
Strong noise blocking performance
Extremely durable Kevlar cord
Comfortable fit options
Cons
Wired instead of wireless
Conclusion
Working long shifts around loud equipment and machinery can damage your hearing over time. OSHA requires proper noise protection for construction workers. The right pair of headphones allows you to listen to music and calls while preventing hearing loss from excessive noise.
For both sound quality and hearing protection, over-ear Bluetooth models like the 3M WorkTunes and Pulsen Headphones are top choices. For maximum noise blocking, the custom-molded Decibullz Earplugs are extremely effective but wired. In-ear options like the ISOtunes or DEWALT Wireless Earbuds allow you to maintain more awareness of your surroundings.
No matter which pair you choose, look for key features like noise cancellation, comfort, battery life, durability, and wireless connectivity. Your headphones should make your job site experience safer while also more enjoyable. Protecting your hearing is crucial for a long, healthy construction career.
Frequently Asked Questions (FAQs)
How do I choose the right fit for construction headphones?
Try on different styles to determine whether over-ear cups or in-ear buds provide the most comfortable secure fit for you.
What headphones work best with prescription eyewear?
Over-ear headphones that fully enclose the ears tend to be most compatible with glasses and safety goggles.
What headphones do construction workers use?
Construction workers often use rugged headphones like the 3M WorkTunes, ISOtunes Bluetooth earbuds, and Howard Leight wireless earbuds which provide good noise reduction and long battery life to withstand loud jobsite conditions.
Do noise Cancelling headphones work for construction?
Yes, noise cancelling headphones are very effective for construction work because they actively block out hazardous ambient noise from machinery and equipment while allowing workers to listen at safer volumes.
What are the best earbuds for working in construction?
The best earbuds for working in construction include the ISOtunes PRO for noise isolation and Bluetooth, DEWALT DPG17 for rugged durability, and Original Howard Leight Sync for wireless connectivity and noise blocking specially designed for worksites.
Recent Reviews And Tips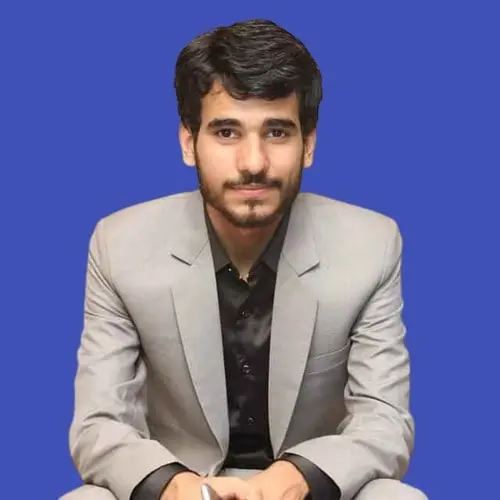 Anneq Aish Choudhary is a passionate writer with a keen interest in headphones and music. With years of experience in writing about technology, Anneq has a deep understanding of the latest trends and innovations in the headphone industry. Anneq's articles provide valuable insights into the best headphones on the market.