Do you love listening to music, but find it challenging to wear headphones with your hearing aids? Many people who wear hearing aids love listening to music or podcasts on their headphones.
But Can You Wear Headphones With Hearing Aids? The short answer is yes, you can wear certain types of headphones with most hearing aids. However, there are some important factors to consider for comfort, sound quality, and hearing aid functionality.
In this comprehensive guide, the HeadPhones Baba team will explore whether it is possible to wear headphones with hearing aids and what type of headphones might be suitable for individuals with different types of hearing loss.
Top 3 Headphones With Hearing Aids
So if you've been longing to jam out without compromising on sound quality or comfort, keep reading – we've got some valuable insights for you!
Types of Hearing Aids
There are several main types of hearing aids that fit in different parts of the ear. Knowing what style of hearing aid you have will determine what headphone options may work best.
Behind-the-Ear (BTE) Hearing Aids
BTE hearing aids fit behind the outer ear and connect to a plastic earpiece in the ear canal. BTEs are the most common style and tend to be suitable for wearing headphones.
In-the-Ear (ITE) Hearing Aids
ITE hearing aids are designed to fit entirely within the external ear. There are several subtypes of ITEs:
Invisible-in-Canal (IIC) – Fit very deep in the ear canal for a discreet appearance.
Completely-in-Canal (CIC) – Fit in the ear canal with only a small handle visible.
In-the-Canal (ITC) – Larger than IIC and CIC hearing aids with a portion visible.
In-the-Ear (ITE) – Fill most of the bowl of the outer ear and make it visible.
ITE hearing aids can make wearing over-ear headphones challenging.
Receiver-in-Canal (RIC) Hearing Aids
RIC hearing aids have a component that sits in the ear canal with a wire connecting to a small piece behind the ear. RIC hearing aids are compatible with headphones.
Can You Wear Headphones With Hearing Aids?
Certain types of headphones work better than others if you wear hearing aids.
1. Earbud Headphones
Earbud headphones that fit inside the ear canal are typically not recommended for those with hearing aids. They can be uncomfortable and may displace or feedback with the hearing aid microphone.
However, some hearing aid manufacturers make specially designed earbuds for their devices. If earbuds are desired, check with your audiologist for recommended options.
2. On-Ear Headphones
On-ear headphones, also known as supra-aural headphones, have pads that sit directly over the outer ear. They are a good option for use with BTE, RIC, and some ITE hearing aids.
Look for on-ear headphones with soft, padded cups and adjustable headphone bands to maximize comfort. Models with a built-in microphone allow you to use headphones for phone calls as well.
3. Over-Ear Headphones
Circumaural or over-ear headphones fully enclose the outer ear inside a cushioned pad.
Many over-ear models will fit comfortably over most BTE and RIC hearing aids. Deeply fitted ITE hearing aids can sometimes prohibit a full seal around the ear.
If wearing ITE/IIC hearing aids, look for over-ear headphones with a shallow, breathable ear pad design to prevent discomfort.
4. Bone Conduction Headphones
Bone conduction headphones transmit sound by vibrating the cheekbones and jaw rather than through the eardrum.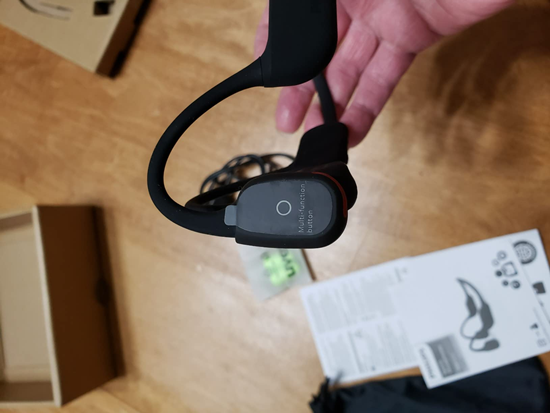 They are a unique option to allow you to listen to audio clearly while keeping your hearing aids unobstructed. Leading bone-conduction headphone brands include AfterShokz and Shokz.
5 The Best headphones to use with hearing aids
For those who wear hearing aids, finding compatible headphones that don't cause feedback or distortion can be a challenge. Certain headphone styles and features work better with hearing aids than others.
After thorough research, we've identified the 5 best headphone options to use with hearing aids based on comfort, sound quality, and innovative technology.
1. Bose QuietComfort 45 Wireless Bluetooth Noise Cancelling Headphones
The Bose QuietComfort 45 over-ear wireless headphones are specially engineered to provide crisp, clear audio while limiting background noise. The closed-back headphone design prevents hearing aid feedback. It is one of the best headphones for bte hearing aids. With adjustable active noise cancellation, you can allow ambient sounds or block external noise completely.
The Bose headphones for hearing aid users connect via Bluetooth and have up to 22 hours of battery life per charge. Soft ear cushions ensure long-wearing comfort. With a focus on audio precision, the Bose QuietComfort 45s delivers superior
sound quality for those requiring hearing assistance.
Features
Active noise cancellation
Wireless Bluetooth connection
22-hour battery life
Adjustable EQ
The quick 15-minute charge for 3 hours of play
Box Includes
Headphones
Charging cable
Carry case
User manual
Pros
Very comfortable fit
Excellent noise cancellation
Crisp, balanced sound
Long battery life
Easy to switch between noise-cancelling modes
2. Sony WH-1000XM5 Wireless Industry Leading Noise Canceling Headphones with Auto Noise Canceling Optimizer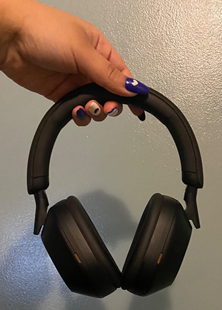 Sony's WH-1000XM5 over-ear headphones combine industry-leading noise-canceling technology with precise voice pickup for crystal clear hands-free calling. The advanced microphone system filters out external noise to optimize voice clarity on calls.
With a lightweight, comfortable design made of soft-fit leather, these headphones can be worn all day without fatigue or ear pain. They connect to devices via Bluetooth and feature intuitive touch controls. The WH-1000XM5s are among the best options for hearing aid users needing active noise cancellation headphones with exceptional call quality.
Features
Industry-leading noise cancellation
30 hours battery life
Quick charging (3 min for 3 hrs play)
Multipoint Bluetooth connection
Touch controls
Speak-to-chat feature
Box Includes
Pros
Lightweight and comfortable
Superb noise cancelling
Excellent audio quality
Long battery life
Great for voice calls
Automatic pausing
Cons
Touch controls can be overly sensitive
3. Sennheiser HD 560 S Over-The-Ear Audiophile Headphones – Neutral Frequency Response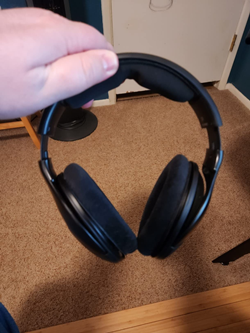 With its open-back ear cup design, the Sennheiser HD 560S is one of the bone conduction headphones with hearing aids and, a natural soundstage without closed-in echo effects. The angled driver placement mimics the triangular position of speakers in a high-end audio setup.
This results in extremely accurate and fatigue-free audio. With low distortion even at high volumes, these audiophile headphones deliver the transparency needed to evaluate music, mixes, and audio components. Their wide frequency range and linear bass make them a great pick for those wanting honest, analytical sound.
Features
Open-back design
Wired connection
Wide, accurate soundstage
Natural audio tuning
Low distortion
Box Includes
Headphones
Detachable cable
6.3mm adapter
Manual
Pros
Extremely comfortable fit
Spacious, natural sound
Very accurate audio reproduction
Great for critical listening
Detachable cable
4. AfterShokz Titanium Mini Bone Conduction Wireless Bluetooth Headphones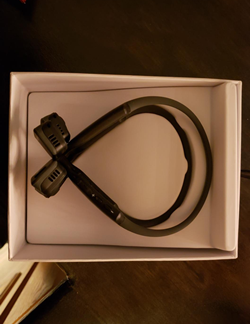 Run Pro For hearing aid users seeking open-ear headphones ideal for workouts and running, the SHOKZ OpenRun Pro is an excellent choice. Using bone conduction technology, these Bluetooth headphones deliver audio through cheek vibrations rather than the eardrum.
This allows you to hear ambient sounds for safety. An open-ear design means no ear pain or hearing aid feedback. With premium bass and volume, you get excellent sound without blocking your ears. These lightweight, sweat-resistant headphones stay put during intense training sessions.
Features
Bone conduction technology
Open-ear design
IP55 sweat resistance rating
10 hours battery life
Microphone for calls
Box Includes
Headphones
Carrying case
Magnetic charging cable
Pros
Allows hearing ambient sounds
Comfortable even for long runs
Doesn't interfere with hearing aids
Stable fit for workouts
Good battery life
Cons
Can cause jaw/cheekbone discomfort
5. PlayStation PULSE 3D Wireless Headset
3D Optimized for 3D audio on PlayStation 5 consoles, the PlayStation Pulse 3D wireless over-ear gaming headphones provide an immersive experience. Their noise-canceling microphones ensure clear communication with other gamers.
The headphones connect wirelessly to PS5, PS4, Windows PC, and Mac via an included USB wireless adapter. With up to 12 hours of battery life, gamers who wear hearing aids can enjoy long play sessions. For hearing aid users wanting a seamless wireless gaming headset, the PlayStation Pulse 3D is a top choice.
Features
Tuned for 3D audio
Dual noise-cancelling mics
12+ hour battery life
Easy on-headset controls
Wireless USB adapter
Box Includes
Headphones
Wireless USB adapter
Charging cable
User manual
Pros
Deep, immersive 3D gameplay audio
Clear in-game chat
Comfortable for long gaming sessions
Audio/chat balance control
Long wireless range
Cons
Not great for non-gaming use
When selecting headphones to use with hearing aids, over-ear comfortable designs with noise cancellation and quality microphones perform best.
Models like the Bose QuietComfort 45, Sony WH-1000XM5, Sennheiser HD 560S, SHOKZ OpenRun Pro, and PlayStation Pulse 3D stand out for their innovative features catering to those requiring hearing assistance.
By choosing headphones engineered for sound accuracy and auditory clarity, you can enhance your listening experience.
Tips for Wearing Headphones with Hearing Aids
Here are some tips to follow for the ideal headphone and hearing aid pairing:
Consult your audiologist to ensure headphones will not interfere with your specific hearing aids.
Turn down headphone volume and limit prolonged exposure at loud volumes.
Clean hearing aids and headphones regularly to avoid earwax buildup affecting sound quality.
Opt for wireless Bluetooth headphones to avoid catching or pulling cords on hearing aids.
Adjust headphone fit and position over hearing aids until comfortable and secure.
Remove headphones slowly and carefully to avoid pulling out hearing aids from the ear.
Take short listening breaks to let ears breathe, especially with over-ear models.
With some consideration for headphone type, features, and fit, those with hearing aids can still enjoy listening to audio through headphones comfortably and safely. Consult your hearing healthcare professional for personalized guidance about your hearing loss treatment plan.
Conclusion
In conclusion, wearing headphones with hearing aids is possible with careful selection of headphone style and fit. Over-ear and on-ear headphones are recommended for use with most BTE, RIC, and ITE hearing aid designs. Specialized earbuds may also be an option, though general earbuds can interfere with most hearing aids.
With adjustments to volume, positioning, and listening periods, those wearing hearing aids can safely experience music, podcasts, calls, and other audio through headphones. Consult your audiologist to find the best headphones that work with your specific hearing needs and aids.
Frequently Asked Questions (FAQs)
Do noise cancelling headphones work with hearing aids?
Yes, noise cancelling headphones can work with hearing aids. Firstly, the design of the headphones should be compatible with the style and size of your hearing aids.
Additionally, some individuals may experience interference or feedback when using both devices simultaneously. It is recommended to consult with an audiologist or try out different headphone options to find the best fit for your specific needs.
Can you wear Airpods with hearing aids?
Yes, it is possible to wear AirPods with hearing aids. However, it may depend on the type of hearing aid you have and how comfortable they are when worn together. Some users have reported success in wearing both devices simultaneously, while others have found it uncomfortable or difficult to fit both in their ears at the same time.
It is recommended to consult with your audiologist or hearing healthcare professional for personalized advice on using AirPods with your specific hearing aid model.
What kind of headphones should I use with hearing aids?
When choosing headphones to use with hearing aids, it is important to consider a few factors. Firstly, look for headphones that have adjustable volume controls so that you can easily find the right level of sound for your hearing needs.
Additionally, opt for headphones that have good noise cancellation features to minimize background noise and enhance the clarity of the audio. Lastly, choose headphones that are comfortable to wear and do not put pressure on your ears or interfere with your hearing aid's placement.
Do noise Cancelling headphones interfere with hearing aids?
Noise cancelling headphones can potentially interfere with hearing aids, as both devices work by manipulating sound waves. The noise canceling technology in headphones generates an opposite sound wave to cancel out external noise, which may affect the functionality of hearing aids.
However, some newer models of noise cancelling headphones are designed to be compatible with hearing aids and have features that minimize interference. It is recommended to consult with an audiologist or try different headphone models to find ones that work well with your specific hearing aid.
How do you listen to music with hearing aids?
Listening to music with hearing aids is quite simple. Most modern hearing aids have a built-in music program that enhances the sound quality specifically for music. Additionally, you can connect your hearing aids to your smartphone or other audio devices using Bluetooth technology, allowing you to stream music directly into your ears.
This secures a deeper and more delightful engagement in the act of listening. If you're unsure about how to set up the connection or adjust the settings for music on your hearing aids, consult with your audiologist or hearing aid provider for guidance.
Relevant Guides And Tips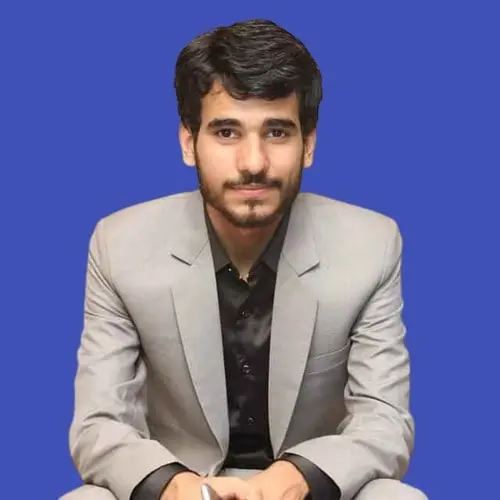 Anneq Aish Choudhary is a passionate writer with a keen interest in headphones and music. With years of experience in writing about technology, Anneq has a deep understanding of the latest trends and innovations in the headphone industry. Anneq's articles provide valuable insights into the best headphones on the market.